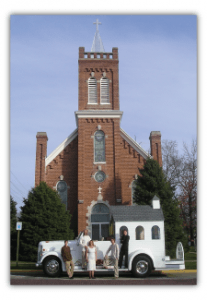 Darrell Best & his wife Lisa are non-denominational ordained ministers — often referred to as licensed wedding officiants — offering affordable and convenient packages to complement and honor your special day. Darrell Best was an over-worked and under appreciated banker and his wife Lisa, a much appreciated home daycare provider. They took a leap of faith by purchasing a 1942 American LaFrance firetruck to start a business to be called Red Hot Weddings.
At the time of purchase, the owner of the fire truck told Darrell about a historic church that was for sale in Shelbyville IL. Two days later, the couple purchased the church, left their jobs and moved their family 200 miles away to start the Best Wedding Chapel. With a lot of luck, and some good karma, Darrell and Lisa have expanded their wedding experience to offer three unique top-rated services:
Traveling wedding ministers, a historic chapel and a mobile wedding chapel. Perfect for couples with same, different or no religious backgrounds, the traveling ministers can travel anywhere, anytime.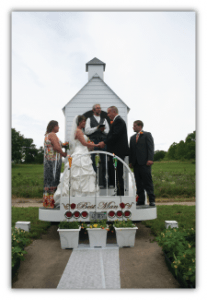 Nine years after the move, their sons secretly wrote to the Country Music Television show "Trick My Truck" about the story. The show transformed the firetruck into the now world famous "Best Man" mobile wedding chapel to give couples a wedding experience like no other!
Finally, for couples who want a simple wedding in a timeless setting, there's the option of the historic chapel, conveniently located behind the Shelby County courthouse in the historic small-town of Shelbyville.
So, if you want a fun, simple and affordable wedding with endless options and without the typical hassles and headaches associated with getting hitched contact us today!